Whether you're the bride, the mother of the bide, or a bridesmaid, having a pixie haircut can have you feeling a little left out during the classic morning-of hair appointment block.
When it became a tradition for women to go to get their hair done together the morning of the ceremony, know one really knows.  Maybe it was something that developed out of practicality.  Maybe it was a fad that never died after the film Steel Magnolias. Whatever the reason, try and remember, not getting your hair done the morning of isn't a bad thing!  In fact there are plenty of upsides to this, as well as solutions to making your hair feel extra fancy.
First the upsides:
Time and money.  Let's face it, hair, especially updos, can be time consuming and costly.  You have better things to do on this big day than to waste such precious resources.
Low stress.  No hairspray, bobby pins, curls or braids to fall out of place before the all important photos. Also no photo re-shoots because, whoops, your hair is blowing in another's face.
You can still join and now be the hero to save the day.  Yes, for some, that bonding at the hair salon is important, and they want the pictures to prove it! Having this time freed up means you can still go with to the appointment.  You can offer to be designated driver if the other gals would like a mimosa at the salon (yes that's a thing in some areas,) and man that camera documenting it all.  How awesome are you!  Whether you are the bride and this is your way of repaying your lovely gals for everything they are about to do for you all day, or if you are a bridesmaid doing it to make the day extra awesome for the bride, you will be an absolute rock star for this gesture.
If you go with to the appointment anyway, you can see firsthand how the hairdressers are creating different effects. That way if something happens later in the day where an emergency fix is needed, you have a little know how in recreating that perfect do.
Onto Style:
There are a lot of ways to make a pixie cut extra fancy, for a wedding. One style you may want to consider (if you have an undercut) may be to find a local salon that has someone that specializes in undercuts. There are some amazing and beautiful patterns many are doing now.
However, the easiest suggestions we have to give is a perfectly selected barrettes, bobby pins, flower-crown wrap or headband. The top of the list being the headband for it's easy, and low maintenance attributes. A note of caution, now; be care to not cross the line from decorative headband to tiara.  Only brides should wear something like that on this day.
While bridal boutiques will try to sell you on all of their ridiculously marked up hair accessories, try to remember that fashion doesn't have to be costly.  We've put together a small collection of beautiful headbands and flower-crowns that are both affordable and well crafted, without stealing the bride's thunder.
A few cautions with all of these:
1. Make sure the bride approves. She may wish to be the only one with flowers in her hair.
2. Make sure this doesn't clash with any accessories the bride is choosing for you, such as earrings or necklace.
Hematite Mesh Flower Headband, also comes in a silver
Only 8.99
Gold and Glitter Daisy Headband
Only 3.99 at Claires
Also comes in Silver,
and Pastel.
Frosted and Iridescent Crystal Flowers Headband
Perfect for bride! Easily attach tulle for a simple veil.
White Flower and Gold Leaves Headband, also available Without Gold Accents.
$9.99
Perfect for Renaissance and Fairy Tale Weddings!
Antique Gold Double Band Headband with Leaves
$7.50
Elegant and simple. Perfect for the more modern wedding!
Silver Flower and Butterfly Flower Crown also comes in Rose Gold, and Gold and Mint, or Gold and White
What makes this piece so wonderful is its ability to adjust.
It sits like a simple crown. If you need it tighter you simply bend the wire frame creating a sharper angle between accents.
A bride can also easily attach a simple veil to the back if desired.
Silver Double Row Butterfly Headband, Also comes in Gold
$9.99
Great for fairy tale, renaissance, or country themed weddings.
$19.99
This one is recommended for the bride only.  An accessory that could be perfect for any style wedding, it's worth the little extra it costs.  Pay attention to bottom of linked page to see other accessories that compliment it as well.
Hematite Filigree Flower Headband
also comes in Gold, and Silver
$7.50
Perfect for those swanky, Great Gatsby or '20s Flapper themed weddings!
Gold Double Row with Pink Oval Stone Headband, also comes in Antique Silver tone.
$9.99
Perfect for that antique or Victorian era feel, or even that 1920s flair.
Cream Flower and Gold Chain Crown Headwrap, also comes in blue.
Or without the chain.
$9.99
Weather a country wedding or Renaissance theme, this floral crown is simple but elegant enough to unite the entire bridal party.
$9.50
Simple, playful, and just enough to take that pixie cut up a notch. However it should be run past bride in case it clashes with any jewelry or other accessories planned.
Gold (pale) Floral Head Crown, also comes in "Mint."
$13.99
Here's another great option for those Fairy Tale, Country, or Renaissance weddings.  It can be worn by just the bride, All of the bridesmaids, or all.
Rose Gold Leaf Headwrap with Tie Closure, Also comes in Yellow Gold
12.99
Incredibly versatile, here's another great option for those Fairy Tale, Country, Flower Child, or Renaissance weddings.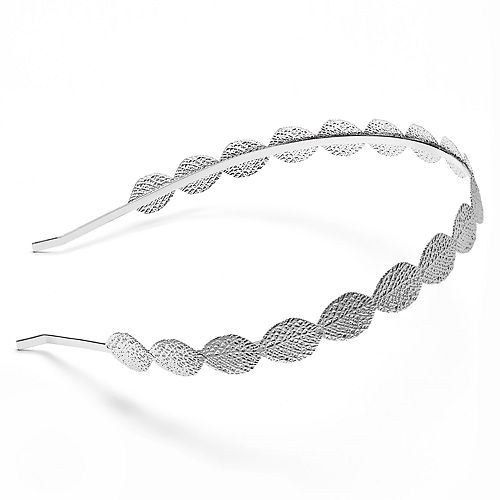 LC Lauren Conrad Textured Leaf Headband
$14.00
Simple and elegant, suitable for anyone in any bridal party.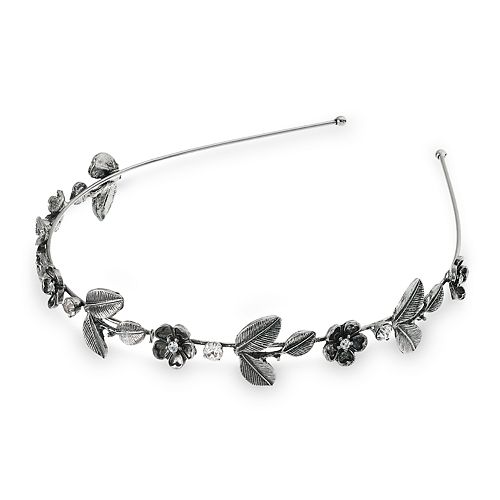 Mudd, Antiqued Flower Headband
$18.00
Beautiful and modest, sure to be subtle and timeless.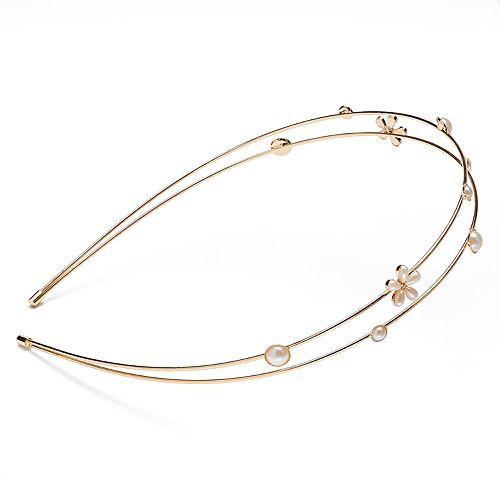 LC Lauren Conrad Flower 2-Row Headband
$18.00
An understated elegance and innocence are at play in this piece.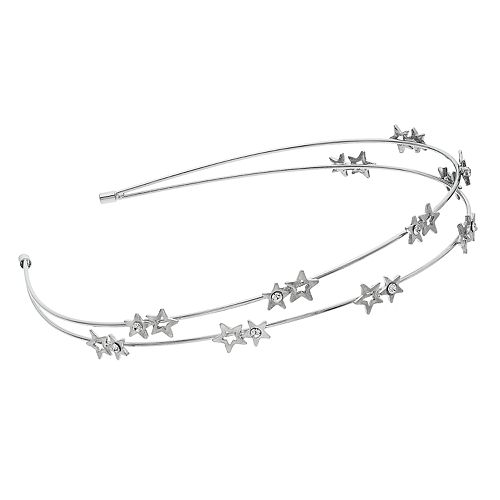 $18.00
Super playful, this headband can be whatever you want it to be.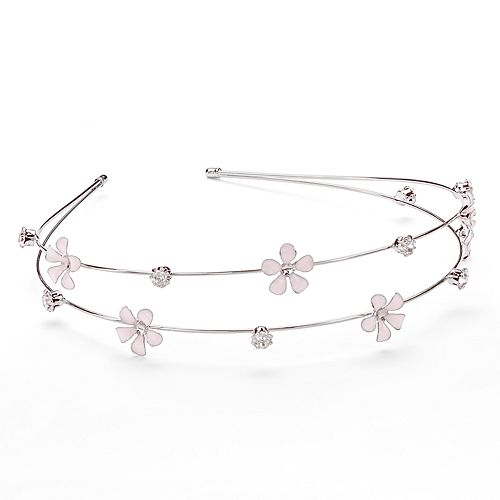 Mudd Flower Double Row Headband
$18.00
Sweet and innocent, this headband adds the perfect amount of sparkle without being a distraction.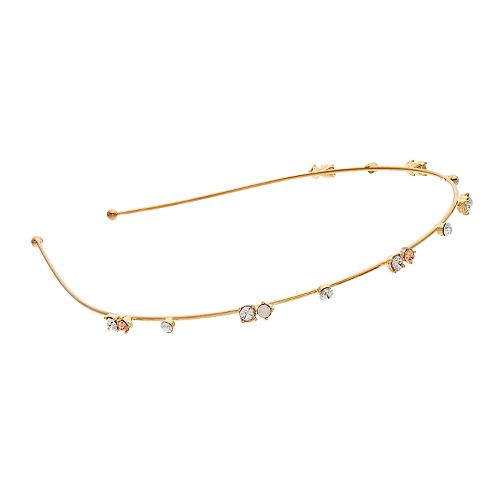 LC Lauren Conrad Simulated Crystal Headband
$18.00
Just a hint of color and sparkle, this piece is as simple as it gets.
We can leave it at that, and this is just from TWO internet sites, but don't forget to check Amazon, Ebay, and clearance sections as well. This collection will continue to expand to other retailers as we gain more personal experience with their products.  At the moment Claire's and Kohl's are the only two we can personally attest being of reliable quality as well as having the right balance of Price and Selection.